Up Old 52
Portsmouth area offers a little something for most everyone
By DAVE LAVENDER - The Herald-Dispatch

PORTSMOUTH -- With a wobbly cassette tape of bluegrass legend Dave Evans' rolling out his Tri-State road classic, "Highway 52," we packed the station wagon, popped a top on some fruit juice, crossed the river to the Buckeye side and headed 60 miles west of Huntington snaking up the Ohio River to Portsmouth, the history-soaked seat of Scioto County, Ohio.
Home to a bevy of famous folk from Branch Rickey and Roy Rogers to Kathleen Battle, Portsmouth has its history floating right on the surface like a beautiful piece of river-rounded driftwood.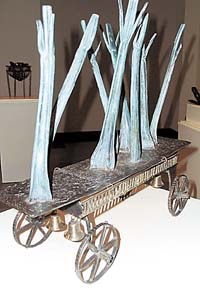 Dave Lavender/The Herald-Dispatch
This metal sculpture is part of an exhibit that is just one of a half dozen cool exhibits at the Southern Ohio Museum in Portsmouth.
While area river towns from Ashland and Maysville to Ironton have -- and are -- painting their floodwalls, Portsmouth, in the past 10 years, supersized it along Front Street.
Louisiana artist Robert Dafford began painting the murals in 1993. Dedicated in October 2002, the Portsmouth Floodwall Murals stand tall in living color on more than 2,200 feet of floodwall space that is considered one of the largest known art works by a single artist. They depict the good, the bad and the ugly -- from the haunting, sweeping gray images of the 1937 Flood to glorious homegrown heroes like Rickey and Rogers and Jesse Stuart. Colorful murals paint Portsmouth's glory days of roaring steel mills, when Jim Thorpe was player/coach of the Portsmouth Shoe Steels in 1927 and when, surreal as it may seem now, the Portsmouth Spartans put a 19-0 whipping on fellow NFL team the Green Bay Packers in the famous Iron Man game of 1932.
A neat way to see and to hear about the history of the 52 paintings is by taking a horse and carriage ride with John and Beth Colley on Colley's Rent-A-Buggy (740-858-1291).
For the past four years, John Colley said the couple has been picking folks up in front of the Ramada Inn, 711 2nd St., for a 25-minute ride for $15 from 6:30 to 11 p.m. every Friday and Saturday night in the summer. Reservations are not needed.
At the mural's end, sits a great little picnic place, Alexandria Park, where you get a sweeping view of the Ohio River and the Scioto River as it pours into the Ohio.
And where you can see in the distance, the river phoenix, Portsmouth Raceway Park (740-354-FAST). Located just a mile west of Portsmouth, the park somehow rises each spring from being buried by acres of the Scioto River that fills the bottomland. Fittingly, in this last blast of May monsoons, the sign had a few letters missing and read, "Portsmouth Race … ark."
Just a block off of the floodwalls sits The Portsmouth Brewery and Mault's Brew Pub, 224 2nd St. (740-354-6106).
With a foundation built with stone from the Ohio and Erie Canal, this restaurant, which features eight hand-crafted all-grain beers, is teeming with local history. Inside the Brewery, opened in 1843, is a brick arcade area. Inside the restaurant, the walls are lined with large black-and-white photos from the long-gone 308-mile canal.
Luckily, while we were there grabbing lunch (try the homemade bratwursts and potato pancakes), Steve Mault was out back grilling in the beer garden, which opened March 2002.
For the past 25 years, Mault operated one of Portsmouth's best-known eateries, The Scioto Ribber (740-353-1226), which he passed to his son.
While out back gabbing with Mault, I got to meet lunch regulars Chip and Mary Maillet of Lucasville. The couple holds a neat place in Portsmouth's warm embrace of nostalgia, since Chip owns and operates WIOI 1010-AM, which has an adult, big band and swing format.
Those sweet strains of Glenn Miller and the like roll out of many of The Boneyfiddle Historic District's cool, antique stores, such as Gay 90's Antique Mall, 543 2nd St., Maynards Variety Store, 603 2nd St., and Remember When, 540 2nd St., which features a kitschy year-round retro Christmas shop area.
Containing about two dozen shops of all sorts, Boneyfiddle has a bakery, a knife store, a hardware store, a garden shop, cafés and includes such specialty shops as Journey Within, an au natural health shop at 513 2nd St.
At 5 p.m. each Thursday in May and June, the Boneyfiddle Events Committee presents Boneyfiddle Happy Hour next to Market Street Hardware and Toy Town, 21 Market St., with live music. Donnie Smith plays this week.
Hitting a good show at the Vern Riffe Center for the Arts or the Clark Planetarium (both at Shawnee State University) is a good reason to boogie up to Portsmouth. We were in the area on a rare two days without a show, so we popped into the nearby Southern Ohio Museum, 825 Gallia St. (740-354-5629). The museum is always worth the drive, since the upstairs holds the largest concentration of Clarence Holbrook Carter, whose paintings are in the permanent collections of most major American museums.
His life quote was, "I have painted my world as I have seen it and felt it," and he did that extremely well. He loved the Ohio River and the steel mills and would go on painting sprees in Portsmouth in the summers -- even getting a garden hose turned on him while he painted outside a home.
If you like some of the funky, new quiltwork you see in the Dairy Barn's annual Quilt National juried quilt show, then you'll need to bust down to see North Carolina artist (and new quilter) Denise Burge's "View from the Car and other stories" exhibit, which runs through June 28 in the Kricker Gallery. The colorful collage-like quilts tackle a wide range of Appalachian issues.
Speaking of issues, parents with young kids rarely get to see new movies, but you can actually see real, first-run movies while their kids saw proverbial logs in the back seat by hitting one of our favorite destinations in the Portsmouth area, the Scioto Breeze Drive-In, (740-258-2881) 9959 U.S. 23 Lucasville. The Scioto Breeze and the Kanuaga (on Ohio 7 in Gallipolis) are a vibrant touch of nostalgia and the new, since both show first-run movies with the audio streaming through FM stereo.
We had to take a raincheck the past two weekends with May's monsoon season, but there is a summer full of good flicks on the way.
"The Matrix Reloaded" opened Thursday on screen one, which sizes in at 84 feet by 57 feet. And if the kids are still awake, just wheel your horse around to screen two where "Daddy Day Care" fires up after dark.
Those movies are followed by two more that crank up a little after 11 p.m. The box office opens at 7:45 p.m., and tickets are $5.50 and free for children 11 and younger.
With Mother's Day waning and the need to feed the troops and frantically find flowers mounting, we ducked out of Portsmouth proper and headed back down east toward Dick's Pizza, 6977 East Front St., Sciotoville (740-776-6231). Located next to Woolford's Landing campground, the restaurant (open Tuesday through Sunday) has a lofty motto of "The Perfect Place to Land," since its back yard opens to a beautiful panoramic view of the Ohio River.
But it lives up to the billing. Without asking, the waitress delivered animal crackers to our 3-year-old, and quickly delivered us plenty of sweet tea and one of Dick's wild pizza selections, this one a 13-inch BLT.
Top that off with a Mother's Day surprise of fresh flowers and plenty of swinging on one of the three tire swings out back, and Dick's quickly moves to the top as one of my favorite riverside restaurants.
Dave Trippin' runs once a month on Sunday Life. Upcoming travel sites include Highway 23, Dayton, Ohio, Greenbrier River, Lexington, Ky., and Meigs County, Ohio.
Scioto Co. singer/songwriter Steve Free picks Top Five spots
It didn't take long. We are only in the second installment of Dave Trippin', and we're already picking up hitchhikers. At each town, we'll feature a top five list from a well-known local personality.
Popular singer-songwriter Steve Free of Scioto County blends his Native American and Appalachian roots for his original songs that he plays from Camden Park to coffeehouses in Cincinnati and Columbus.
Here are five of Free's favorite spaces and places in his native county.
"I'm usually on the road somewhere playing tunes, but when I'm not, I am a nature lover," Free wrote in an e-mail. "I like to hike and camp. Of course, with my Native American heritage and involvement, my favorite areas in Scioto County are usually associated with that."
• Shawnee Forest -- "Especially the Wilderness Area that is on the Scioto/Adams border," Free wrote.
The forest at 60,000 acres is the largest of Ohio's 19 state forests and was once the hunting grounds of the Shawnee Indians. The Wilderness area is an 8,000-acre area. The rugged beauty has earned the area a nickname of "The Little Smokies." For more info on Shawnee Forest, call (740) 858-2386.
• Raven Rock -- The old Shawnee look out over the Ohio River. "The climb is a bear, but the view is awesome," Free writes. It's located off of U.S. 52 west of Portsmouth. "They could see the boats coming for miles and miles."
• Brush Creek State Forest -- "Located in Otway and Rarden, my home territory," Free writes. "It's Shawnee Forest with no people!" Brush Creek Forest is off Ohio 73 in Rarden. Hiking and camping available. Call (740) 372-3194.
• Ye Ole Lantern and Boneyfiddle Historic District -- "The Lantern's new owner, Tim Arms, is really trying to build the area up, turn it into an arts area with the murals etc.," Free writes. "I play every Thursday night (6:30 to 10 p.m.) and love it."
Ye Ole Lantern, 601 2nd St., has been a longtime haunt of Free, who helped put the place on the map when CBS-TV's "48 Hours" came and filmed him there back in 1994 about "Seige at Lucasville," a song about the prison riots that claimed Cashbox's national charts.
• Vern Riffe Center for the Arts -- "Most of the acts that come here can't believe this place is in Portsmouth. It's awesome for a little town like this to have it," Free writes.
The Vern Riffe Center is located on Second Street on the campus of Shawnee State University. Call (740) 351-3622 or go online at www.vrfca.org.