Last modified: Saturday, March 10, 2007 11:12 PM EST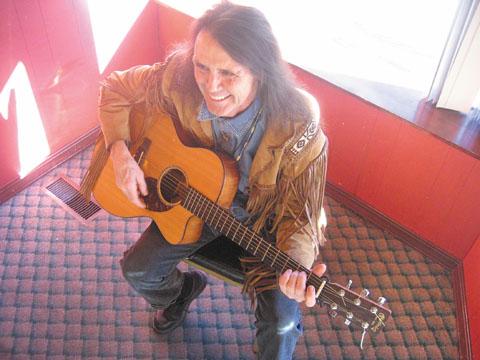 Frank Lewis - Daily Times - Music writer and artist, Steve Free, sits in Ye Olde Lantern and prepares for a performance. Free's song "Just a Baby Boy" recently hit the top of the International Gospel Music Chart, according to Gospel Train Express.
Artist hits No.1 with 'Just a Baby Boy'
By FRANK LEWIS
PDT Staff Writer
Scioto County Appalachian folk music writer and artist Steve Free has added another feather to his hat. Free's Christmas song "Just a Baby Boy," has landed at the top of the International Gospel Music Chart, from the publication Gospel Train Express.

"It's on some other charts too, but in this one it's number one," Free said.
He found out the song hit No. 1 last week.


"I put the song out three years ago and it's done well, especially overseas," Free said. "But this year it's just taken off. All of a sudden, I started getting these e-mails from overseas people saying 'They're playing your song in Australia, New Zealand, Malta, and they are saying they really like it.' And then I got phone calls and did interviews in Amherst, Virginia, Texas and Oklahoma."

The song is different from Free's usual genre, and it has received response from gospel radio stations, including stations that play Southern Gospel music, which surprises him.

"I'm basically a folk songwriter, and nobody knows what that is anymore," Free said. "Basically you're a storyteller, and I've had 11 songs on the charts. My songs are stories, so they hit different charts. It depends on what the song is about."

Free said writing the song "Just a Baby Boy," was something inevitable in his career.

"I always liked Christmas music, but I always felt like there wasn't any new Christmas songs, especially songs with meaning. And I just wanted to write a song that told a story, again," he said. "I'm a storyteller and that's the greatest story ever told."

Free said when he and producer Shad O'Shea, of Fraternity Records, originally produced the song to send in Christmas cards to radio stations, "And then everybody started playing it, so we thought, 'Well, let's put it out again next year,' and people would buy them for everybody in their church."

Most of the time Free's songs are about the river, Appalachia and Native Americans. And he said most of his music gets more air play in other countries.

"Maybe they're just more fascinated with American music," Free said. "The reason this song got so much air play in the United States was because it falls into the gospel format, and because of the message behind it."

Free said that because most radio stations are tightly formatted, his songs get played mostly on Americana stations, National Public Radio and college stations. He said most overseas radio stations have a more mixed format, playing different artists from those played in the U.S.

Free recently won another ASCAP award. This one was for a Fraternity Records 50th anniversary CD with various artists.

The Ohio Arts Council has just named Free an Ohio Artist on Tour.

"They select 80 some artists, most are like opera singers, and some dancers" he said. "I applied and now the Ohio Arts Council pays part of my fee."

Free will be doing a 10-cities tour in areas of northern Ohio including Akron and Canton, and in the Lake Erie region. In June, Free plans to do 11 shows in Kansas and Oklahoma.

Free recently performed at the inauguration of Gov. Ted Strickland, and while there, he came in contact with a lot of acts in the performing arts field around the state. He said when he announced that he was from southern Ohio, all the people in the Portsmouth and Scioto County section cheered.

Free said he is gearing up for his tour and looking forward to the festival season at the end of the summer.