PARKERSBURG — Music can come from any number of influences, a folk singer told those gathered Sunday at the Blennerhassett Museum.
Steve Free, of Portsmouth, Ohio, was the featured speaker/performer for the third lecture of the 2018 Blennerhassett Museum Winter Lecture Series.

Free is an internationally acclaimed award-winning singer, songwriter and recording artist. He writes music that evokes imagination, reflects life and tells touching stories, event organizers said. His music covers the gamut of folk, rock and country.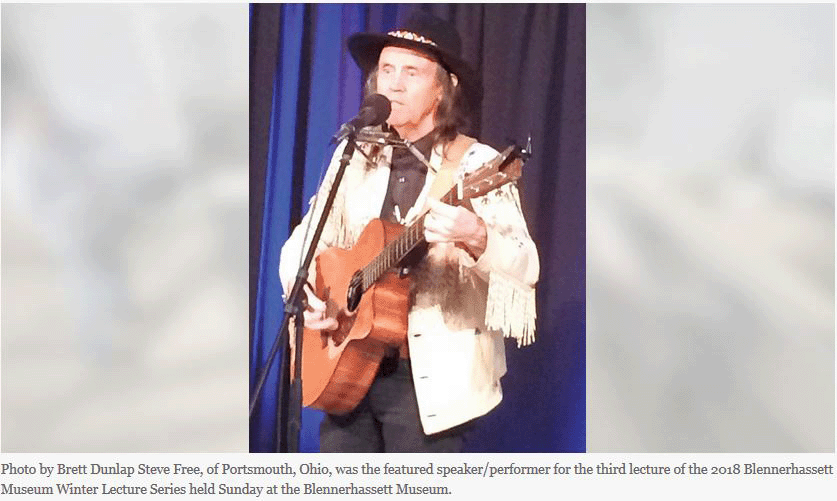 "My focus in folk music is Appalachian folk music," he said Sunday. "Folk music is stories.

"It tells a lot of different stories. Folk singers get their ideas from a lot of different places."

He talked about meeting a man who told him the story of how he met his wife 44 years ago, how he walked into this place and saw her. Now their family gathers every year to commemorate that first meeting.

"I thought that would make a great song," Free said.

He worked on it and added a couple of things to the story to make it a better song. In the song, the man asked the woman to dance, which the real man did not do.

"I also changed Colorado to Idaho, because 'Idaho' is easier to rhyme," Free said with a laugh.

He talked about some of his influences.

"I am also part Native American and people forget that we were the first Appalachians," Free said.

He talked about his Shawnee background and how there is no such word as "Shawnee" and that it had been changed as more people tried to say it. The correct way to say it is "Shaawanwaki." Free incorporates Native American music into some of his work.

Free is the winner of numerous music industry awards including nine ASCAP AWARDS, a Platinum Record and a Grammy nomination. He has charted over 30 songs on the National & International, Americana, Country & Billboard Charts, including 15 #1 songs.

In 1996 he was named International Independent Recording Artist of the Year, in 2008 he won the Governor's Award as the #1 Artist in his home state of Ohio and in 2009 was honored by The Kentucky State Senate for his musical contributions to Appalachia. He is an Ohio Arts Council and Midwest Arts Council "Ohio Artist On Tour." In 2009 he was honored by being named an Official "Ohio Treasure."

"Something to be said about longevity," he joked. "I just outlived all the really good folk singers."

He talked about coming from Duck Run, Ohio, former home of Ohio Governor Ted Strickland and famous singing cowboy Roy Rogers who was a friend of his grandfather's and visited the area regularly when Free was a kid.

He joked that is why he won a Governor's Award, because he and Strickland were from the same area. He sang about coming from southern Ohio
.
Free got the audience to participate by repeating certain phrases and clapping as he performed. It only took a little urging from Free to get people going.

"Come on," he said. "It is a museum, not a library."

He performed songs relating to his grandmother's cherry pie, a song about a hunting dog where he had the audience howl like a dog, a song about his Native American influences and connections to the natural world where he was accompanied by Susan Sammons on the flute as well as a number of other songs.

Free also sang what he considers to be his most successful song, a Christmas song titled "Just A Baby Boy" about those who first saw Jesus in the manger.

"If anyone remembers me at all it will be for a Christmas song," he said. "It is better to be remembered as a one-hit wonder than a no-hit wonder."

People have called him wanting his whole Christmas album release. He has to tell them it is just the one song. He has had the song performed by a number of other artists as well as choirs and large church groups. Arrangers will regularly call him up and ask about note arrangement using technical terms and Free has just gone along with it and agrees or confirms whatever the person is saying, not really knowing what they are talking about.

A fan from Canada wrote him and got him to send her 24 copies of the song. Free asked if they were for everyone in her church. She told him it was for everyone in their town of Moose Jaw, Saskatchewan.

"I have a lot of musician friends who like to brag," Free said. "When they do, I tell them there is a town in Canada where everyone has one of my CDs."

Next week, the final entry in the 2018 Blennerhassett Museum Winter Lecture Series will be "Elderberry Flood — The History, Lore and the Land of West Virginia" about the late poet Louise McNeill. The presentation will include slides and various readers as her words are put in the context of a number of West Virginia scenes.

McNeill was appointed by Governor John D. Rockefeller IV as West Virginia Poet Laureate in 1979. The presentation will be 2 p.m. Feb. 25 at the Blennerhassett Museum.