Free Writes Bicentennial Song
Last updated: February 26. 2015 by Frank Lewis
Portsmouth Daily Times Article
To Discover more about the Portsmouth Bicentennial
click for Facebook
With Portsmouth facing a year-long bicentennial event in 2015, it seemed the only thing missing was an official bicentennial song. Enter Scioto County resident, award winning songwriter/performer Steve Free.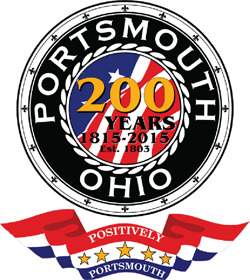 "They (bicentennial committee) contacted me last year and they asked me about writing a song about it and I said, sure," Free said. "They were interested in the song I had in a movie."
However, after the committee listened to the song from the movie, they approached Free again with another request.
"They had their meeting and they came back and said, 'we'd like our own song. Can you write our own song?'" Free said. "I told them I could, so I came up with this little ditty and about a month later they called and said they were having a meeting and asked me to come and play it at the meeting."
That was the first time "Portsmouth Ohio," had it's debut with a chorus that goes - "Where life is simple, sweet and free and you can be what you want to be. Down beside where the rivers flow, my heart, my home, Portsmouth, Ohio." That's all it took.
"I just kind of strummed it and right in the middle of the meeting they voted to make it the official bicentennial song," Free said. He then recorded the song that includes the words - "Mural paintings on the wall tell the stories of us all. Shawnee warriors and baseball stars to shoe factories and motor cars, riverboats and football beams. He we're still living out our dreams."
Free said Carl Daehler will score the song and he will be performing "Portsmouth Ohio" with the Portsmouth Wind Symphony at their spring concert on April 12, 2015 at the Vern Riffe Center for the Arts.