If there is a thread that runs through all of Steve Free's albums, it is that he not only maintains his Americana roots, but always, in sometimes subtle ways, reinvents himself. "Ship of Dreams," is again full of surprises.
What makes "Ship of Dreams" special is that it is dedicated to his number one fan — his mother, Florence Wagner, who passed away this past year. He put his signature on the album with a song he wrote about her, titled "A Million Years."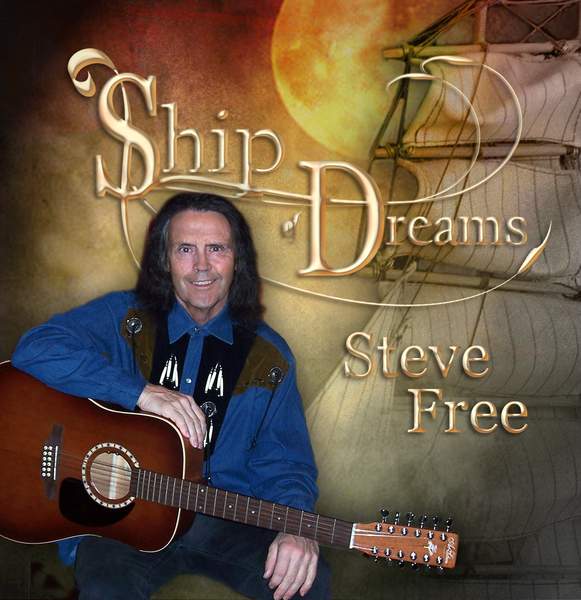 "I wrote that song about her," Free said. "She couldn't hear it because she was real sick. But I did show her the lyrics to it before she died. My mom supported everybody she knew. She was like everybody's mom. Once you met her, she would just draw you into the circle. I'll bet she knew a thousand people's birthdays."
The reinvention part of the album was the mix of musicians from on of America's best fiddle players to his two sons.
"(Fiddle player) Davy (David) Johnson is down in Nashville, but he's from Ashville, North Carolina," Free said. "He's one of the best fiddle players in the country. These musicians will play a certain style of music. They'll play nothing but country or nothing but gospel. They love to play on my stuff because it doesn't fit any certain category. But he also got to play the cello."
The title song came about because, in many ways, it was Free's desire to do a concept album, a concept that is a throwback to the seventies.
"I kind of wanted to follow that idea without getting too deep into concept," Free said. "To be quite honest with you there is so much negativity in the world - everybody says - "the world is going to hell in a handbasket," gloom and doom. Well, I write songs like that, but I like to do something positive, uplifting, spiritual; songs about hope. So I've got all of these songs and they're carried on the ship of dreams."
What does repeat from album to album is the happy theme with lots of light, airy music that makes you smile and tap your toes. "All God's Children," "Collin's Boogie" and "Into the Sun," are all along that vein. Each features crisp instrumentation.
"It just comes out that way," Free said. "Even when I write, when I might write something kind of cynical to make a statement, it comes out sounding like that."
That truth comes out clear as the sky in his Native American songs. On this album he dedicates the song "Sacred Ground (Manadjto Tibanaki) to all his Shawnee relation and Native American brothers and sisters everywhere, with special thanks to Cuz' Mary Cross.
"I'm a big environmentalist too. I have a lot of environmental groups that use my songs for different things," Free said. "I even had a song on my last CD called 'When the Storm Passes By,' that the Hospice Association of Leeds, England uses as their theme song."
In case you are not familiar with the peculiar trips Free's music takes, here is an example. At one point in January, Free's song, "Do You Wanna Dance," was number one on the International Country Music chart; his song, "A Child of These Hills," topped the International Gospel Music chart and his "Peace Carol," was atop the Christmas charts the month before.
Animal lovers will flock to "Ole Link," about his dog that smiled. He references another dog with the song, "Old Blue."
What may seem like a stretch for Free fans is his inclusion of some blues. But again, he fits his own personality into it. Specifically the song, "Find Me a Job," brings some great blues elements together.
"That's a special song to me because both of my sons are really great musicians," Free said. "My oldest son Nate played bass on that. And my youngest son, Dakota, who is only 17, played lead guitar. That's the only song that the three of us have ever recorded together. Dakota is the one who gave me the idea. He'll be 18 soon and he said, 'I need a job, but I don't want any stupid job.' This generation doesn't want to start at the bottom. They want to start at the top. That's the story, 'Find Me a Job,' tells." Keeping it in the family, one notices easily that the harmonies come from Steve's wife, Susan Sammons-Free, whose haunting tin whistle adds an almost opaque touch to the songs she plays on.
Free said, unlike some of the most prolific songwriters, writing songs doesn't come easy to him.
"I'm the laziest songwriter in the world," Free said. "There's people, and I admire them, that just crank 'em out, like Bob Dylan and the west side's Rick Ferrell, but I'm not like them. I think because most of my songs are stories."
Not to be missed from the new CD are "So Far Away," and "Whispers in the Wind," or even his own rendition of the great spiritual tune,"Mary Don't You Weep."
As Free's music evolves, picking up a genre' here and a genre' there, his philosophy is etched in the stones of the creeks that run through the forest.
"Make people laugh; make 'em cry and make 'em think," Free said.