March 5, 2014 — Friday's "Peace and Love" show at the Grayson Gallery and Art Center conti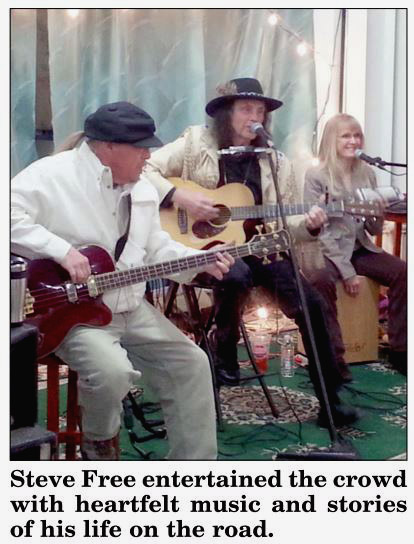 nued the venue's string of successful events by drawing an enormous crowd.

More than 100 persons graced the halls of the gallery, which featured an eclectic mix of paintings, sculpture and mixed media pieces submitted by artists from Carter and surrounding counties.

There also were a number of non-traditional art pieces, including two life-like sculptures crafted using only Kleenex tissues and Elmer's Glue.

Local artist Carol Ray won Best In Show and received a $100 check for her mixed media collage.

Spectators were also treated to the musical stylings of regional favorite and award-winning folk artist Steve Free.

Free performed for almost three hours, entertaining the crowd with his melodic guitar work and mastery of the wood flute as he performed a mix of his hits as well as new songs from his recently released "Ship of Dreams" album.

The artwork and music weren't the only smash hits at the event, however.
Gourmet coffee and desserts provided by 3rd Street Coffee barely lasted an hour, receiving high praise from nearly everyone in attendance.

The gallery will celebrate "Women in the Arts" this month with a special screenwriting workshop featuring award-winning director Allison Anders.

Funding for the workshop was made possible through an artist enrichment grant from the Kentucky Foundation for Women.

The celebration of female artists will continue at this month's Final Friday event, scheduled from 6 p.m. to 9 p.m. on March 28.
Joe Lewis can be reached at jlewis@journal-times.com