ASHLAND — The career of Steve Free stretches to before CD — to vinyl, in fact.

"That's how long I've been around," he said with a laugh. "I'm sure there are some Steve Free 45s in people's closets or barns somewhere."

It's difficult, even for him, to keep track of all his recordings; he said he has produced eight or nine CDs and has many songs on compilations and soundtracks.

As of Saturday, Free will add another one to his list. That's when he will release his next CD titled "Ship of Dreams," which Free considers a concept album like those not uncommon in the 1970s.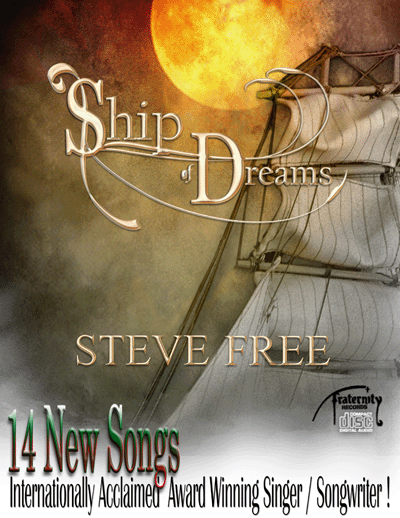 "I love the idea of a concept album," he said, noting he wrote 12 of the 14 songs on the album. "I mostly tried to do uplifting songs, you know those story-songs that seem to be my niche, and of course spritual."

The other two songs on the CD are public domain songs: one is an old Appalachian song called "Blue" and the other a gospel song from the slave era called "Mary Don't You Weep." Free said he made a few changes to the gospel tune to update it.

"It's very Americana but covers all genres ... you know me I'm super-eclectic," he said.

Free will have several CD release parties, including one Friday at the Grayson Gallery and Art Center during Final Friday and parties later at The Frame-Up Gallery and The Lamp Post Café, both in Ashland, and in other cities where he performs regularly.

Free had two songs hit No. 1 this month on three charts in separate genres.

"That's a first for me," he said, noting "Do You Wanna Dance" was No. 1 on the International Country charts, "Child of These Hills" was No. 1 on the International Christian Country charts and "Peace Carol" was named the No. 1 Christmas song in December by GTE Music Magazine.

Free is the winner of a long list of music industry awards, including nine ASCAP awards, a platinum record and a Grammy nomination. He has charted more than 30 songs on the national and International, Americana, country and Billboard Charts, including 15 No. 1 songs. He also was named International Independent Recording Artist of the Year in 1996 and won the Governor's Award as the top artist in Ohio in 2008 and was honored by the Kentucky Senate for his musical contributions to Appalachia the following year.