Steve Free performs during the Camden Park opening weekend Sunday, May 8, 2011, in Huntington.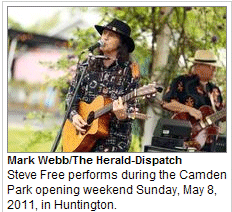 HUNTINGTON -- There are two certainties that you will experience when you drive through the west end of Huntington in the summer.
One is that you will be drawn to the mouth-watering smell of Heiner's fresh-baked bread. The other is that you will see hundreds of people riding the Big Dipper and chowing down on Pronto Pups at Camden Park.
The latter came to life this weekend as West Virginia's only amusement park opened for its 108th season.
The historic, family-run park rang in the new season with a special Mother's Day deal. All moms got through the gate for $1 with another regular general admission purchase.
It's a deal that Debra Damron and her family couldn't pass up. The Williamson, W.Va., residents made the 90-minute trek Sunday to spend all day at the park.
"My mom passed away last year, so I'm trying to keep my mind occupied on the fun," she said. "My mom brought me here for as long as I can remember."
Damron's husband, J.R., said he was impressed with how well-maintained Camden Park is for being 108 years old.
"I hope it stays around," he said. "It's something we did as kids, and we want our kids to have the same experience. It's nice to have something like this close to home so we don't have to drive too far."
There are a few new features at Camden Park this year, ride supervisor Shawn Wellman said. There is a revamped gift shop, arcade and toy store, he said. There also have been upgrades made to the Little Dipper, Whip and Flying Scooters, he said.
The park features more than 30 rides and attractions, including the historic Haunted House (which was restored last August), Log Flume, Swan Boats, Kite Flier, Big Dipper, Dodge 'Em Cars and many antique children's rides.
For more information about the park, go online at www.camdenpark.com.