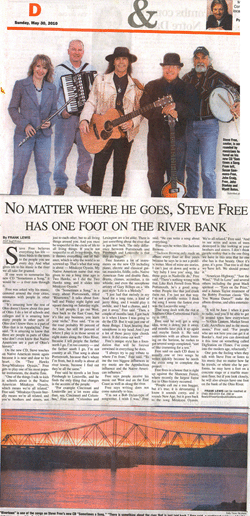 Steve Free believes everything has life — from birds to the trees to the people you see every day. And what gives life to his music is the river we all take for granted.

If one were to summarize his new CD "Sometimes a Song," it would be — a river runs through it.
Free was asked why his music, centered around the river cities, resonates with people in other areas.

"It's amazing how the rest of Ohio doesn't know about this part of Ohio. I do a lot of schools and colleges and it is amazing how many people in other parts of Ohio don't know there is a part of Ohio that is in Appalachia," Free said. "It is amazing to know that there are people in parts of Ohio who don't even know that Native Americans are a part of Ohio's history."

On the new CD, Steve touches on Native American music again because it is near and dear to his heart. On "Two Hawks Song/Mitakuye Oyasin," Free gets to play one of his most popular instruments, the double flute.

"One of the things I talk to kids in schools about is the Native American Mitakuye Oyasin, which means we're all related," Free said. "Mitakuye Oyasin literally means we're all related, and you're brothers and sisters, not just to each other, but to all living things around you. And you must be respectful in the circle of life to all living things. If you're not respectful to all living things, then it throws everything out 'of balance, which is why the world is so screwed up. That's what that song is about — Mitakuye Oyasin. My Native American name that was given to me a long time ago is Two Hawks, so I did the Two Hawks song, and it slides into Mitakuye Oyasin."

On "Sometimes a Song," is a story about Portsmouth, titled "Rivertown." It talks about football and Friday night lights and square dancing on Saturday night.

"I tell people, I go out West, then back to the East Coast, but it's like any business, you learn your'niche," Free said. "I'm on the road probably 80 percent of the time, but still 80 percent of where I play is in those seven or eight states along the Ohio River, because I tell people the farther north I go, I'm too country — and the farther south I go, I'm not country at all. That song is about Portsmouth, because that's where I'm from, but it really is about all river towns, because I find out they're all the same."
Free said he travels a lot from Pittsburgh to Louisville, and he finds the only thing that changes is the accents of the people.
"For example Cincinnati and Louisville are a lot more alike than, say, Cincinnati and Colum­bus," Free said. "Columbus and Lexington are a lot alike. There is just something about the river that is just laid back. The only differ­ence between Portsmouth and .Pittsburgh and Louisville is that they are bigger."

Free, features a lot of instruments on the new CD including piano, electric and classical gui­tar, mandolin, fiddle, cello, Native American flute and double flute, drums, chimes, accordian, a tin whistle, and even the saxophone artistry of Gary Billups on a '40s jazz style "Life is a Melody."

"I just had that melody in my head for a long time, a kind of jazzy thing, and I would play it awhile, and I had a chorus, and I put it away," Free said. "Then, a couple of months later, I got back to it when I knew I was going to do the CD. But it was just one of those things. I kept hearing that saxophone in my head. And I put a lot of those jazzy type chords into it. It did come out well."
Free's; unique style has a foun­dation that will be forever entwined in everything he does.

"I always try to pay tribute to where I'm from," Free said. "To me the two biggest influences in my music are the Appalachian influence and the Native Ameri­can influence."

Free says people receive his music out West and on the East Coast as well as along the river.
Free says writing does not come naturally to him.

"I'm not a Bob Dylan-type of songwriter. I wish I was," Free said. "He can write a song about everything."

Free says he writes like Jackson Browne.

"Jackson Browne only made an album every four or five years because he says he is not a prolif­ic writer. Most of mine are stories. I can't just sit down and write a 'hey baby I love you' song, like those guys in Nashville do," Free said. "There's nothing wrong with that. Like Rick Ferrell from West* Portsmouth, he's a good songwriter. People like that just crank them out. I'm just not that way. I'm not a prolific writer. I think the song I wrote the fastest ever was the Lucasville song."

That song dealt with the riot at Southern Ohio Correctional Facility in 1993.

Free said he will get a song idea, write it down, put it away, and months later pick it up again and maybe finish it. He said sometimes with an album looming on the horizon, he rushes to get several songs completed, "sort of like cramming for a test."
Free said on each CD there is usually one or two songs he writes quickly because he needs the extra song to complete the project.
Free lives in a house that is right up against the Shawnee Forest, where recently the largest forest fire in Ohio history occurred.
"People call me a tree hugger, but it's true, it is devastating. I know it sounds corny, and it sounds New Age, but it goes back to the song Mitakuye Oyasin.

"We're all realted." Free said. "And to see acres and acres of trees destroyed is like looking at your brothers and sisters. I don't think people realize that is the one thing we have in this area that ho one else has is that beauty. Once it's gone, it's gone. That tree is all that we 'have left. We should protect it."

"American Highway," "Just the Wind," "Fall In Love" and several others including the great black spiritual — "Eyes on the Prize," and a James Taylor treatment of the Bobby Freeman classic "Do You Wanna Dance?" make the album diverse, and ultra entertaining.

"It will be June 1 when it goes to radio, and you'll be able to get it around town here everywhere —Ye Olde Lantern, Market Street Cafe, ArtAffects and in the music stores," Free said. "For people who are not here you can get it at Border's. And you can download it this time on something called DigStation on iTunes. I've come into the modern age, reluctantly."

One gets the feeling when they talk with Steve Free or listen to his music that no matter how far he.travels, or where else he per­forms, he may have a foot on a concrete stage or a marble man­sion floor, but if you look closely, he will also always have one foot on the bank of the Ohio River.