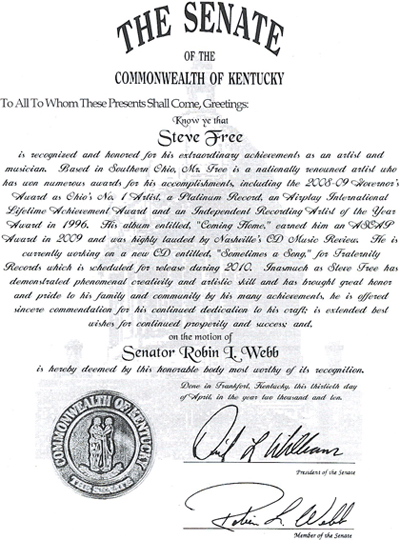 The Senate of the Commonwealth of Kentucky
To All To Whom These Presents Shall Come, Greetings:
Know ye that Steve Free is recognized and honored for his extraordinary achievements as an artist and musician. Based in Southern Ohio, Mr. Free is a nationally renowned artist who has won numerous awards for his accomplishments, including the 2008-09 Governors' Award as Ohio's No. 1 Artist, a Platinum Record, an Airplay International Lifetime Achievement Award and an Independent Recording Artist of the Year Award in 1996. His album entitled, "Coming Home," earned him an ASCAP Award in 2009 and was highly lauded by Nashville's CD Music Review. He is currently working on a new CD entitled, "Sometimes a Song." For Fraternity Records which is scheduled for release during 2010. Inasmuch as Steve Free has demonstrated phenomenal creativity and artistic skill and has brought great honor and pride to his family and community by his many achievements, he is offered sincere commendation for his continued dedication to his craft; is extended best wishes for continued prosperity and success and, on the motion of Senator Robin L. Webb is hereby deemed by these honorable body most worthy of its recognition, done in Frankfort, Kentucky, this thirtieth day of April in the year two thousand and ten.