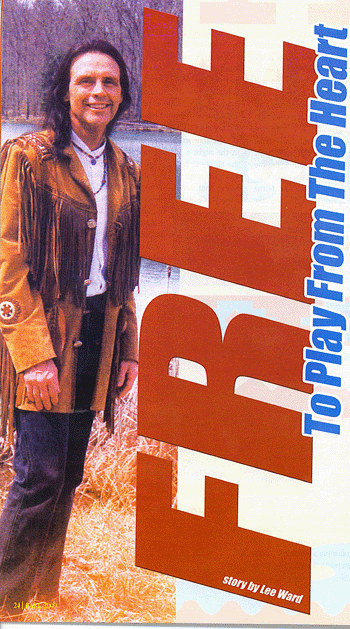 Singer-songwriter Steve Free has received many honors and awards over the years. Still he finds it difficult to describe his style of music. "My music falls in the old folk/rock or that 19705 singer-songwriter category, like John Denver or James Taylor, that style," Free said. "But that genre doesn't 'officially' exist anymore, so they have to put me some­where."

"Putting him somewhere" has resulted in some amusing insights for Free, who says he's labeled and described in a variety of ways.

"A radio station in Cincinnati, a newspaper in West Virginia and a music magazine in Nashville all came up with the same review on time, saying, 'Steve Free is an Appalachian Jimmy Buffett,"' he said with a laugh. "Still haven't figured out if that was a compli­ment or an insult. Actually, I probably will wind up like Buffett, who said, 'They couldn't find a category for me so I became one.'"
No wonder Free is difficult to pigeonhole.

He has hit songs on many dif­ferent charts, including his cur­rent song, "Everybody's Friend," which hit number one on the Christian country music chart based on play overseas and in the United States. This year, "Wayfaring Stranger" made it to number one on the Christian Country Charts in Europe. His Christmas song, "Just A Baby," was number one last year on the same chart. He has received eight American Society of Composers, Authors and Publishers (ASCAP) awards and had songs chart on Cashbox, Billboard, Americana and on international charts.

This summer, he toured Kansas and Oklahoma, where he has a strong following. There is a distinct feel to his music, thanks to Appalachian and Native American roots.

Born in Portsmouth, Free lived in the community of Duck Run until he was 4, when his parents divorced and he and his mother went to live in Arizona.

"My mother played piano and sang in a gospel group," he said. "She always loved music and I guess it rubbed off."

At 10, he and his mother returned to Duck Run to live on his grandfather's farm. After attending Ohio University and serving in the U.S. Air Force, Free's interest in music blossomed.

"Like most musicians from my generation, the biggest influ­ence was the music explosion of the '6os and '703," he said.

Free performed in a folk group beginning in the 19705 and still occasionally gets together with those musician friends. The group recorded with some small record labels in Philadelphia and, in the late 19805, Free signed with Fraternity Records, the label he continues recording with now. He has released five CDs with them.

Storytelling might be the one word to best describe what Free does.

The style of the song depends a lot on the story I'm telling That's where 'Everybody's Friend' the latest single is charted," he said.
"The style of the song depends a lot on the story I'm telling," he said. "It's not straight rock or straight country. It's really more Americana, but then you throw in the Appalachian and Native American influences and themes and it's pretty unique sounding, compared to most..... I guess sometimes it's better to be 'different than good.'"

That's fine with Free because his uniqueness has led to much of his success. On International radio, Free is one of the top American artists in Europe and Australia, where the sound is reminiscent of the United States' music of the '6os and '70s. Free was honored with a platinum record in Nashville for the units of airplay his songs received on International radio in 2002. "They have a format now called 'Christian Country,' which is not pure gospel but more songs of a spiritual nature and a lot of singer/songwriters like me end up on that chart — the Oak Ridge Boys, Kenny Rogers, Dan Seals — and I have a lot of success on that format in recent years ...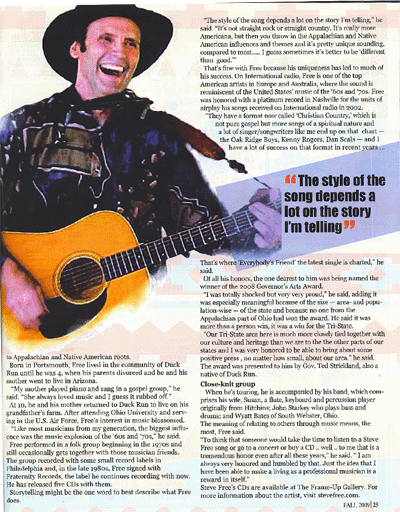 Of all his honors, the one dearest to him was being named the winner of the 2008 Governor's Arts Award.
"I was totally shocked but very very proud," he said, adding it was especially meaningful because of the size — area- and popu­lation-wise — of the state and because no one from the Appalachian part of Ohio had won the award. He said it was more than a person win, it was a win for the Tri-State.

"Our Tri-State area here is much more closely tied together with
our culture and heritage than we are to the the other parts of our
states and I was very honored to be able to bring about some
positive press , no matter how small, about our area," he said.
The award was presented to him by Gov. Ted Strickland, also a
native of Duck Run.
e
Close-knit group
When he's touring, he is accompanied by his band, which com­prises his wife, Susan, a flute, keyboard and percussion player originally from Hitchins; John Starkey who plays bass and drums; and Wyatt Bates of South Webster, Ohio. The meaning of relating to others through music means, the most, Free said.

"To think that someone would take the time to listen to a Steve Free song or go to a concert or buy a CD .. well.. to me that is a tremendous honor even after all these years," he said. " I am always very honored and humbled by that. Just the idea that I have been able to make a living as a professional musician is a reward in itself."Steve Free's CDs are available at The Frame-Up Gallery. For more information about the artist, visit stevefree.com