OASCD

Journal Editor Larry C. Ewing
Spring/Summer 2009 • Leading for Learning


Ohio's 'IndividualArtist9 of the Year Brings His Talent to the Classroom
Steve Free is a singer, songwriter, storyteller and educator.
He's also the 2008 recipient of the Governor's Award
for the Arts as Ohio's "IndividualArtist," and has been designated
an "Ohio Treasure" by the Ohio Arts Council His profes­sional career spans more than 25 years, and includes perfor­mances in venues as varied as coffee houses and concert stages — and, libraries and classrooms.



In presenting the "Individual Artist" award, Gov. Ted Strickland described the recipient as one,".. .who has been vital to the growth and development of Ohio's cultural resources." Free was cited for his work as an Ohio Arts Council "Artist on Tour," as well as for his work in the commu­nity and the region, and was honored for his,".. .significant contribution to Ohio's diverse tradition of art."

Free, who records on the independent label Fraternity Records in Cincinnati, writes stories and songs about the area's history, his travels and his Appala­chian and American Indian roots (Shawnee and Cherokee). Free does about 200 shows a year: mostly performing within a seven-state region.

In all areas of his career, Free tackles topics close to his heart; such as the environment, Native American songs and Ohio history. He holds a Bachelor's Degree in History from Ohio University.

In addition to his work on stage and in the studio, Free offers comprehensive educational programs that focus on topics such as Appalachian History, Native American culture and the environment.
"Our mission in the classroom," Free says, "is to use music to educate children of the rich heritage of our area and the Appalachian and Native American cultures that helped shape it. We encourage students to explore their own roots, and to consider the interconnectedness of man, nature and spirit - and how the circle of life must include all of these to be complete."

In practice, Free's educational programs focus on Native Ameri­can and Appalachian heritage through an exploration of music and thought as expressed in poetry, chants and songs. He uses those themes to encourage students to explore their own thoughts on history, geography, and literature - and, to then express those thoughts through creative expression.

"He mixed Indian music with Appalachian music -- How awesome," an Ohio sixth grade student said after experiencing one of Free's in-school programs." He taught us about our state's Shawnee Indians and their culture.

"The big drum represented the heart of the earth. We liked it when he explained mother earth, father sky, grandfather trees and grandmother stars. He taught us Indian words that we put into songs."

Free uses traditional Native American instruments and historically accurate costumes and props during the school assemblies.
"What cool instruments he had," another sixth grade student said. "The frog, the cricket, and the alligator instruments sounded so real... We liked it when he taught us the back beat from the front beat in Shawnee Indian music. The double flute, the chimes and the huge drum that sounded like heartbeats gave us a majestic feeling."

"My songs are hard to categorize, but basically I'm a storyteller, and when we play, we're having fun," said Free. "One of our sayings is that no matter where we're playing we want to make you laugh, make you cry and make you think."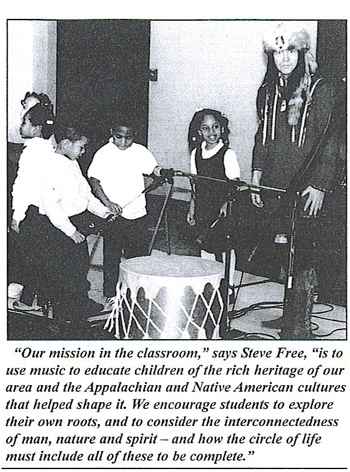 Free has been described as an "Appalachian Jimmy Buffett," in that he chooses to write about events, places and people based on his Appalachian and Native American heritage.
"Look," Free says of that comparison, "Jimmy Buffett writes about the beach, and it worked for him. Lynyrd Skynrd wrote about the South and it worked for him ... I concen­trate on this region. I travel all around the country, but when I stay around the Ohio River—that's where I get the best response.
"Our music fits well in a region from Pittsburgh down to Louisville. It seems we do well along bodies of water," he says. "States that border the rivers, like Ohio, Tennessee and Kentucky, they're a lot alike. If you close your eyes and think about it, people that live within the river areas, they're pretty much the same; it's just the accent that's different."
Free is perhaps best known for his song "Siege at Lucasville," which hit the Billboard and Cashbox charts and was filmed by CBS-TV's "48 Hours."
His single "Everybody's Friend" hit the No. 1 spot on the International Christian Country Charts in October 2008. His recent CD, "Coming Home," has achieved both commercial and critical success. In reviewing the CD, Power Source Magazine wrote:
"Steve Free is the embodiment of the American folk spirit. If our nation is a melting pot, then this album is its reflection."

Scioto County-based, Free has had more than a dozen charted songs on the Billboard, Cashbox and international charts, and has sold thousands of records worldwide. His CD, "All Points Between," was nominated for Album of the Year by the Ameri­cana Music Association in 2005, and his single, "My Guiding Light," reached No. 2 on the Billboard Christian Country Charts. His Christmas song, "Just A Baby Boy," is an international hit and has become a worldwide holiday standard.

He is one of the top American artists on European radio and is featured prominently on National Public Radio (NPR) stations throughout the United States.


Full information on Free's educational program is available at his website (www.stevefree.com