Hot off receiving the Governor's Award as Ohio Artist of the Year, Steve Free is "Coming Home." In fact, that is the name of his new CD.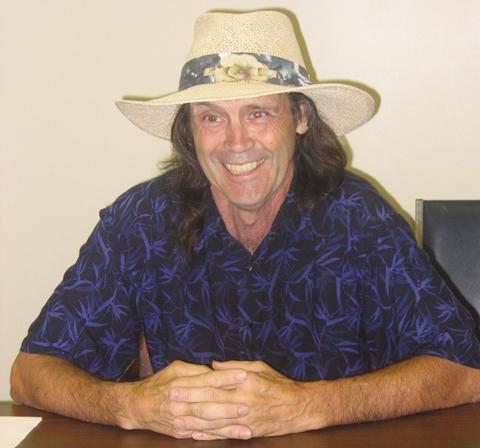 T.W. Allen/Daily Times Shown is Steve Free, winner of the 2008 Governor's award for the best artist in Ohio. He is shown talking about his new album, "Coming Home."
"We didn't know what to name it, but Shad and I thought about it, and we thought all of the songs, like 'Ho Wa Ne Ba Ke Che' and 'Party on the River,' 'Wayfaring Stranger,' they all have that theme, coming home, so that's what we named the album."
Free was asked why the new album in many ways has a new sound, differentiating itself from previous projects.
"I try to do something different. I try to get better. So far it has gotten good response," Free said. "In the next two weeks my record company will be mailing out 1,500-2,000 copies to radio stations in the U.S."
Free mentions the U.S. specifically because the first single from the album is already hitting the charts in other parts of the world.

The single, "Everybody's Friend," is in the top 40 in Glamsbjerg, Denmark; Norfolk, England; Marmoutier, France, where it is number one; Walluf, Germany; Nanango Queensland, Australia; Lienz, Austria, and dozens more cities around the world. He is even on the charts in Israel. In Sweden, they spell his name "Steev" on their charts.

"Everybody's Friend," laments the loss of someone special in all our lives.

"I kind of started it about my brother, and I really didn't know if I was going to record it, and if I did I would just use it as a fill-in track," Free said. "I started it and didn't finish it, and then, right after my brother passed away, there was a young man everybody knew and everybody loved named Steven Hunter, a great kid, and a real good friend of mine, and he passed away, and he, like my brother was one of those people who just seemed to get along with everybody in all different walks of life. And then I had a couple of other friends die, and I realized I ought to finish it."

Free said the reason so many people have taken to the song is everybody knows someone and has lost someone like that person described in "Everybody's Friend."

Free talked about the mixture of soft ballads and down-home foot-stomping music on the latest album.

"The more I do, and I have been doing this for about 15 years, the more success you have, they let you do more," Free said.

Free was referring to the status afforded artists who reach a level of success that allows them to take more control of their music, and thus, their careers.

"With the technology they have today, you can have people all over the country working on the recordings," Free said. "This is the most acoustic album I ever recorded. There is no electric guitar on the whole album. I actually play all of the guitar parts. Even if you bring a great guitar player in, like, say, an Eric Clapton. He's ten times better than me, but when he plays it's going to sound like Eric Clapton. So in that respect, I was able to make all of the songs sound like I wanted them to sound."

Free said the album took about eight months to complete, and tracks were done at several places, then returned to producer Shad O'Shea for final mixing. Free was also involved in the final production.

Steve's wife, Susan Sammons did most of the background vocals on the album, as well as Debbie Ward, wife of local record producer, Dan Ward, and on the song, "Ho Wa Ne Ba Ke Che," Stephanie "Brown" Scragg, of the Jody Brown Indian Family, provided the background vocals and Sherri and Bruce Killen performed the trills. Scragg also played the mandolin on that track, as well as a unique arrangement of the classic spiritual "Wayfaring Stranger."

"That song (Wayfaring Stranger) has been done so many times, and I thought, 'How can we do it different?" Free said.

"Ho Wa Ne Ba Ke Che," is more than a song title to Free, himself of Native American heritage.

"That was the group we had way back in '94 when we bought the Shawnee back to do the mounds. The name of our group back here was Ho Wa Ne Ba Ke Che, which means, 'We are coming home'," Free said.

Back then Free was asked to write a song about the Shawnee, but it took him 14 years to complete the project.

"I always had it in my mind that I was going to write the song, but it sort of got lost, and I didn't know what else to say," Free said. "But because I'm a storyteller it takes me longer to write a song. I've got all of these ideas, and I sort of stash them away, and maybe years later, just sitting around, I say, 'I remember that one. I'm going to finish that,'"

Free said he remembered a famous speech the legendary chief Tecumseh had, when he found out so many of the tribes had sold their land to the U.S. government.

"Selling land and owning land is so foreign to Native Americans, because, how can you own something that belongs to everybody," Free said. "So I took that speech and put that with that Ho Wa Ne Ba Ke Che."

Another instrument that stands out on the album is the Native American flute, which both he and his wife play, and which is featured on an instrumental track by itself.

"I actually play a double flute when we play live. For example, I played it recently up on Lake Erie. It's a really unique instrument," Free said.

Taking the totality of the album, Free was asked if his music, which relies heavily on the theme of life in southern Ohio, resonates with people in diverse areas of the country.

"More than it used to. I used to feel like I hated to do that because I felt like I was kind of pigeon holing myself, but I think it is just longevity," Free said. "The more you are around, they start to know your name, and I started to get away from that, and I talked to people, and they said, 'why do you want to do that? It worked for John Denver. He sang about the Rocky Mountains, Lynyrd Skynyrd sang about the south, Jimmy Buffett sings about the beach, so I stuck with that."

Free, known by many as "The Appalachian Jimmy Buffett," is something more than just a genre'. He is more than Appalachia, or even Americana. He is one-of-a-kind with a smile that expresses his heart, and his love for the hills of southern Ohio, its original native citizens, and those who have continued the life that comes with their heritage.

To sum up his style and sound, "He is uniquely Steve Free, and with his new album, he is 'Coming Home."

For information on where to find the album, fans can go to www.stevefree.com.

To hear sound clips of the album click here
Songs featured on the new album include:

1 I'm Gonna Miss You

2 Party On The River

3 Forever In Love

4 Appalachian Moon

5 Everybody's Friend

6 Wayfaring Stranger

7 Coming Home To You

8 Leaving For The Islands

9 Ma Patee

10 If I Told You I Loved You

11 Gloria's Song

12 Ho Wa Ne Ba Ke Che

13 Our Hometown

FRANK LEWIS can be reached at (740) 353-3101, ext. 232.