FREE HONORED BY HOMETOWN
by
Janet Nesler
The following article appeared in the The Scioto Voice Newspaper
August 2008
Receiving many worldwide awards never brought tears to the eyes of singer/songwriter Steve Free, it brought gratitude and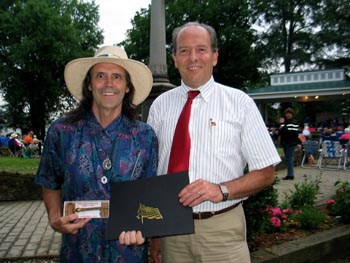 appreciation, but never tears. That changed on July 4th in Tracy Park when Steve was given surprise recognition by the City of Portsmouth. After Steve sang his song Down by The River with the Portsmouth Symphony Orchestra, Mayor James Kalb took the stage and presented him with a proclamation from the city of Portsmouth and the key to the city.
Mayor Kalb read each line of the recognition to Steve which included,
Whereas, "Steve Free and his band play a unique blend of original songs designed to explore the rich heritage of his Native American and Appalachian roots;
Whereas, "Steve Free was recently awarded the prestigious Governor's Award for the Arts in 2008 by Governor Ted Strickland;
Whereas, "Our community is fortunate to have Steve as a citizen because of the profound effect his music has on listeners;"
Whereas, "I, James D. Kalb, Mayor of the City of Portsmouth, do hereby recognize Steve Free and thank him for inspiring and touching the lives of so many people through his music." Mayor Kalb then presented Steve with the key to the city.
With tears in his eyes Steve replied, "This is the greatest honor any singer/songwriter can have, to be recognized in such a way by their hometown."
Having written many songs about his hometown he represents it well by being given the 2008 Governors Award as the top singer/songwriter in the State of Ohio. He is an OAC "Ohio Artist On Tour". His educational program is popular at schools throughout Ohio and the Midwest. Teaching children Native American ways and the meaning of chants and drumbeats and to be aware of their environment with his song "When The Trees Are All Gone".
A few of his achievements include winning eight ASCAP Awards, charting twelve songs on the Cashbox, Billboard, Americana and International Charts. He has received numerous other Music Industry Awards including a Platinum Record for international airplay and a King Eagle Lifetime Achievement Award. In 2007 Steve was on the Top 200 International Country Music Airplay Chart. His latest CD Coming Home was released this month, July 2008, to 2500 radio stations worldwide. Free's CD will bring tears to your eyes with the song Everybody's Friend, written about his late brother. It will make you tap your toe to Party On The River. It will thrill you with the Native American Chant Ho Wa Ne Ba Ke Che. You may contact Steve by going to www.stevefree.com or calling 740-858-0710.