by brenda crites
lifestyle editor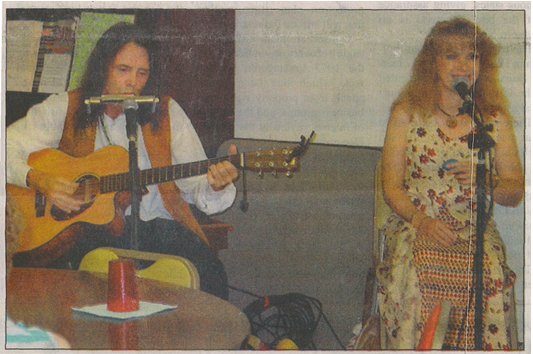 Singer/songwriter Steve Free and his singing partner, Susan Sammons, performed in Coffeyville June 25 through 27 as part of the Coffeyville Community College Humanities Program.

Free has lived in Portsmouth, Ohio for 30 years. But he has an interesting connection with Coffeyville- his 4th great-grandfather was William Dalton, a member of the notorious Dalton Gang family.

"I have learned more about my family tree and history in the last few weeks than was ever spoken of in my family," said Free. "But then, when I see their legacy I can understand why! Of course, apples don't fall too far from the tree, my Grandfather on this side of the family was the number one Moonshiner in Eastern Kentucky and Southern Ohio in the 1920's.

''I found out quite a bit more information when I went to the Coffeyville Website to check out the area and what was available there, that is when I learned about the significance of my ancestors to the Coffeyville area."

Susan Sammons is from "across the river" in Hitchins, Kentucky, Free joked, "When we travel in the South they refer to me as a 'Yankee' but Susan, who lives right across the river from me, is considered a southerner."

Free is an internationally known award winning singer/songwriter/recording artist who draws upon his Native American (his grandmother is Shawnee) and Appalachian roots through songs and stones to entertain and educate audiences of all ages. He has won 8 ASCAP Awards; has earned a Platinum Record and has Charted 11 songs on the Billboard, CashBox and International Charts. He remains one of the top American folk/country artist on European and Overseas radio.

Along with schools and art pre­sentations, Free is one of the most sought after performers on the fair and festival circuit in the Midwest and South. He was nominated for the Governor's Award for the Arts in Ohio in 1996 & 2000.

His CD, "All Points Between" was nominated for Album Of the Year by The Americana Music Association in 2005 and the single "My Guiding Light" reached # 2 on The Billboard Christian Country Charts. His Christmas song "Just A Baby Boy" was an International hit in 2005 and is becoming a world­wide Christmas standard.

Steve and Susan performed throughout Coffeyville and Caney. "It's been really an inter­esting experience, we met one woman, Vera Peace, who is 105 years old! In some places there was quite a group and everyone was clapping and singing along, that was just great," he added.
The songs performed included "Walking My Baby Back Home" ami the John Denver tune, "Country Roads." One song;, written by Steve Free was an ode to "Home Grown Tomatoes."